History
A look into the past, where the history of the Nordic begins.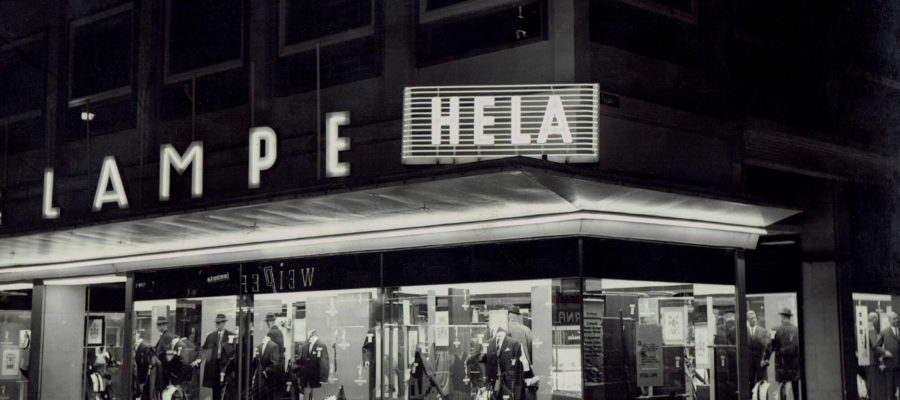 1951
For more than half a century nordische has been realizing high-quality and innovative illuminated advertising.
The company was founded on June 6, 1951 in a building partially destroyed by war in what is now the Kiel/Tannenberg industrial estate.
We started there with four employees, a glassblowing workshop for the production of neon tubes and a workshop for metal letters.
The condition of the building and the post-war period required a talent for improvisation, imagination and drive. No problem for the nordische.
In the beginning the advertising systems were delivered with the motorcycle of the manager or the private car of the managing director.
Half a year later a DKW panel van was purchased.
1954
The lower part of the building was rebuilt and a real office space was set up. The company flourished and grew to 12 employees
who first produced metal letters and transformer boxes, and later also steel constructions.
1961
The nordische moved to its new premises in Kiel.
Mid 70s
The material acrylic glass offered new creative freedom and revolutionised the design possibilities for illuminated advertising installations. The Nordische set
modern machines and made their production more precise. From the middle of the 70s onwards, instead of galvanized sheet steel, the much more robust and
weatherproof aluminium is processed.
1994
Sabine Blöcker becomes partner and managing director.
Relocation to the Wellseedamm 1.
2001
nordische celebrated its fiftieth anniversary on 6 June 2001.
2003
Move to a larger hall at Barkauer Straße 121.
There is room for a CNC milling machine and the locksmith's shop has more space
in order to manufacture also larger advertising systems.
2006
LED technology is finding its way into illuminated advertising and is increasingly replacing conventional neon systems.
The main advantages are significant energy savings of up to 80% and a longer service life.
The high efficiency of the maintenance-free LEDs is reflected in low heat emission and a better ecological balance.
We follow the technical progress and use it successfully in many projects.
2009
After 58 years, the founder, Rainer Schreib, is leaving the company.
Sabine Blöcker is the sole owner and managing director.
2011
We have reason to celebrate: nordische. celebrates its 60th anniversary in the circle of the founder,
the managing partner - Kabine Blöcker - and all employees and many partners.
A special day for all those who have accompanied this path over many years.
2014
Lars Epler strengthens the management and becomes an equal partner / managing director.
2015
Our steady growth requires more space and we are moving to Wellseedamm 4d.
With the move to our new and modern company headquarters we have invested in new technology
and modern means of production, our team has expanded and new customers have been acquired.
And we don't want to stop.